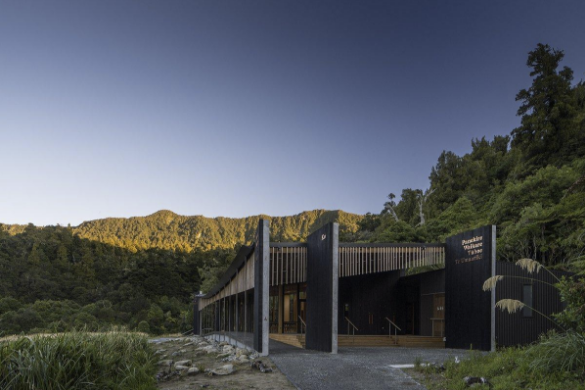 | | |
| --- | --- |
| Categories: | |
| Completed: | 2016 |
| Architect: | Tennent Brown Architects & Jasmax |
WAIKAREMOANA VISITOR CENTRE
Te Wharehou o Waikaremoana has been built to replace Lake Waikaremoana's former visitor centre, Āniwaniwa, which was controversially demolished. The new visitor centre is providing local iwi, Ngāi Tūhoe with hope for the future of this southernmost part of Te Urewera. Te Urewera is a 2,127km² area of mostly forest and was considered to be the largest of four National Parks in the North Island until 2014 when it was made its own legal entity.
Architect Ivan Mercep and his team at Jasmax had previously designed Te Kura Whare, where OWT has also installed Operable window gearing.
Te Wharehou o Waikaremoana was built to reflect certain aspects of Te Kura Whare, which was designed and built under the Living Building Challenge. All the materials used for this building passed the extensive regulations of the Living Building Challenge. However, rather than installing solar panels and septic tanks, which would require extra costs and materials, the site plugged into the pre-existing water and sewage lines DOC had installed for holiday parks.
The open space has three main areas: a café and kitchen, and a dining area and a welcoming area, which can both be used for formal and informal wānanga [discussion]. The western entrance leads into the building and onto a wide veranda, offering shelter to trampers. The centre can be entered at either end, and a generous deck spans the East, North & West facing sides of the building, whilst providing relief from rain.
The central wall behind the fireplace is constructed by local iwi from earth bricks left over from Te Kura Whare (the clay was extracted at Taneatua), adding a connection between the local people to the tribal office. 
The central idea of Te Wharehou is to connect people with the lake, the environment and the neighbouring DOC holiday park.
This project not only required gearing that complied with the high standards of the Living Building challenge, its isolated location meant our installers needed to travel down a 47km gravel road to reach the construction site. Therefore, maintaining effective communication between clients was imperative, to guarantee no hiccups during the installation process.
PROJECT DESCRIPTION
Install sustainable gearing which meets the standards of the Living Building Challenge.

Provide an effective & economical solution for opening windows in this DOC visitor centre.

Colour matching gearing to minimise the presence of the chain drives within the space.

Install gearing to high-level windows, to maintain effective natural ventilation to the expansive internal space.

Coordinating with work performed by other trades to ensure timely installation and conformity with plans and specifications, in an extremely isolated location.

Provide the highest quality service to reinforce our client relationships and brand reputation.