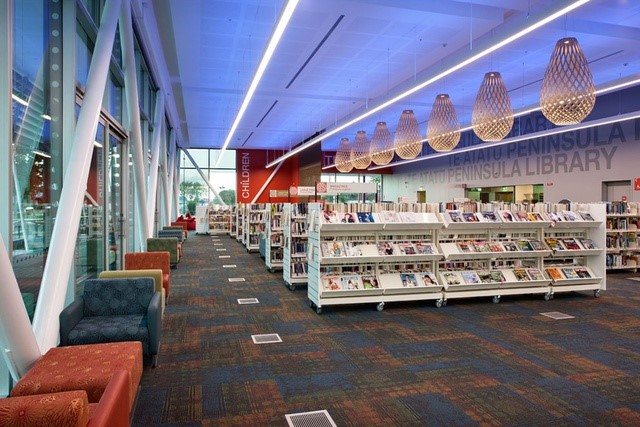 | | |
| --- | --- |
| Categories: | |
| Location: | Te Atatu, Auckland |
| Completed: | 2013 |
| Architect: | Moller Architects |
TE ATATU LIBRARY
There is a shared entry and gallery space linking the library to the community centre, which includes the main hall for active and passive recreation. 
Te Atatu Peninsula is an interesting albeit challenging land mass,   extending out into the Waitemata.  The new community centre and library building was the site of its predecessor, a simple work of municipal modernism. Just as the previous building, this one comprises a community hall, a library and some smaller rooms.
The space designed is a simple plan, but on this plan, Moller has made something bold. The design comes into its own in elevation. Both hall and library are dynamic spaces, in which the hall's look has been designed with two intersecting gables that create dormers to provide natural light and break the ceiling into alternating spaces and voids.
This multi-use community hall features two intersecting roof gables that create dormers, allowing natural light throughout the space.  Spaces within the library are created by screens and furniture. The library is a double-height glass box, articulated by its spaces, created by screens and by furniture, not by walls.
(Photos courtesy Simon Devitt)
PROJECT DESCRIPTION
Capturing the idea and theme of the openness of the library, and utilizing every space and void to allow natural light and ventilation.

Providing a durable operable window gearing option that could withstand the elements of the libraries proximity to Waitemata Harbour.  

Installing discrete window gearing, so as to not interfere with the streamlined nature of the open space that Te Atatu Library resonates.

Coordinating with work performed by other trades to ensure timely installation and conformity with plans and specifications.

Provide the highest quality service to reinforce our client relationships and brand reputation.