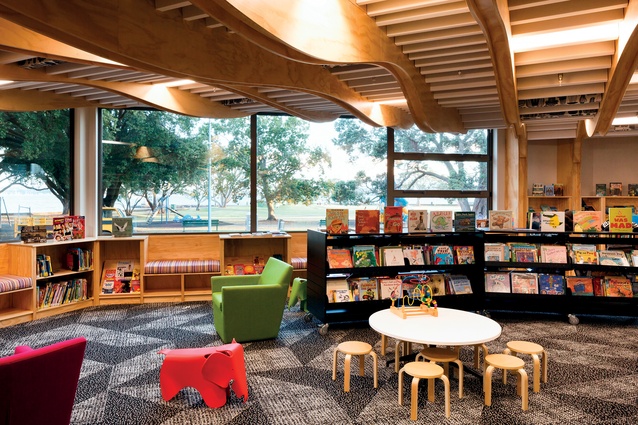 | | |
| --- | --- |
| Categories: | |
| Location: | Devonport, Auckland |
| Completed: | 2014 |
| Architect: | Athfield Architects |
DEVONPORT LIBRARY
The library design creates a circular flow as you move from space to space. Past the main entrance, a fireside living room which provides a homey vibe, followed to the right, by a beach-inspired community room and, anticlockwise from there, a children's space with sculptural soundproofing and sea views, a glass box housing the staff area, the young adults' section and the raw pine tones of high and airy main shelves. There is a central grand staircase in the middle that allows visitors to experience the height of the space, whilst the operable window gearing utilises natural ventilation to create air flow through this well-designed space.
The libraries proximity to the ocean and its surroundings of New Zealand native pohutukawas generate a familiarity to home. Whilst the comfortable design and interior furnishings provide a sound-absorbing space, which utilises passive air flow. The units chosen for this build were the WindowMaster chain drives, which possess a stainless steel chain, making them ideal for the libraries coastal location.
These units were colour matched to the joinery, reducing their interference to reader's window views of the idyllic coastal town of Devonport.
PROJECT DESCRIPTION
Install gearing which captures the essence of the space, providing natural ventilation and letting the ocean air flow throughout the space.

Provide a discrete and quiet solution for opening windows in a library setting.

Colour-matching gearing to joinery to minimise the distraction through window views.

Install gearing to numerous high-level windows, whilst providing an economical solution.  

Coordinating with work performed by other trades to ensure timely installation and conformity with plans and specifications.

Provide the highest quality service to reinforce our client relationships and brand reputation.