About this Gearing
Windows are operated by a horizontal shaft with levers attached to the window sashes, to open and close the windows. The shaft is operated by a gearbox, which can be either Manually operated or Electrically connected.
This is the most robust & reliable window control option, having been tried and proven over decades of use, particularly in schools.
We offer both Manual and Electric options, both of which are economical and practical for use on high-level windows & louvres.
It is a common misconception that manual gearing is the cheapest gearing option. More often when single windows are involved, Electric shaft and lever or Chain drives are a cheaper alternative.
We are more than happy to quote a job for you in multiple gearing types to assist you in achieving your desired result at the best price.
Manual Shaft & Lever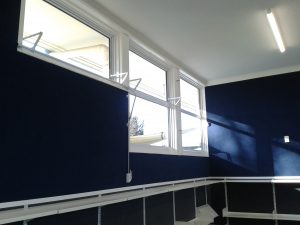 The windows are operated by a vertical shaft & gearbox with handle, positioned at an easy to reach height
No cabling is required.
Gearboxes & vertical drive mechanisms must be mounted on solid walls below the windows.
Ideal solution for creating the industrial look.
We are our suppliers preferred installer of this product.
Electric Shaft & Lever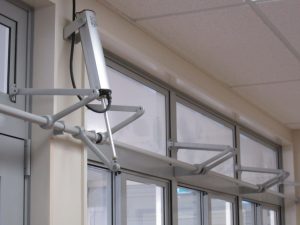 Recommended if numerous groups of windows are located in one area or at Clerestory level with a void below.
We use 230-volt electric linear actuator motors from the Italian APRIMATIC range, a quality and economical solution for operating window controls.
Fast & very quiet
Can be installed everywhere
Economical solution for a quality product
Benefits
Extremely strong & robust
Suitable for large & heavy sashes
High wind resistance
Economical window gearing solution
Powder coated to match the joinery
No cabling is required.
Design Requirements
Maximum number of sashes 7 per control (if sashes < 850mm wide)
Maximum horizontal shaft length 7500mm
Not suitable for windows at head height, as the gearing protrudes into the room when closed.
Not recommended for windows with curtains or blinds
Gearboxes & vertical drive mechanisms must be mounted on solid walls below the windows.