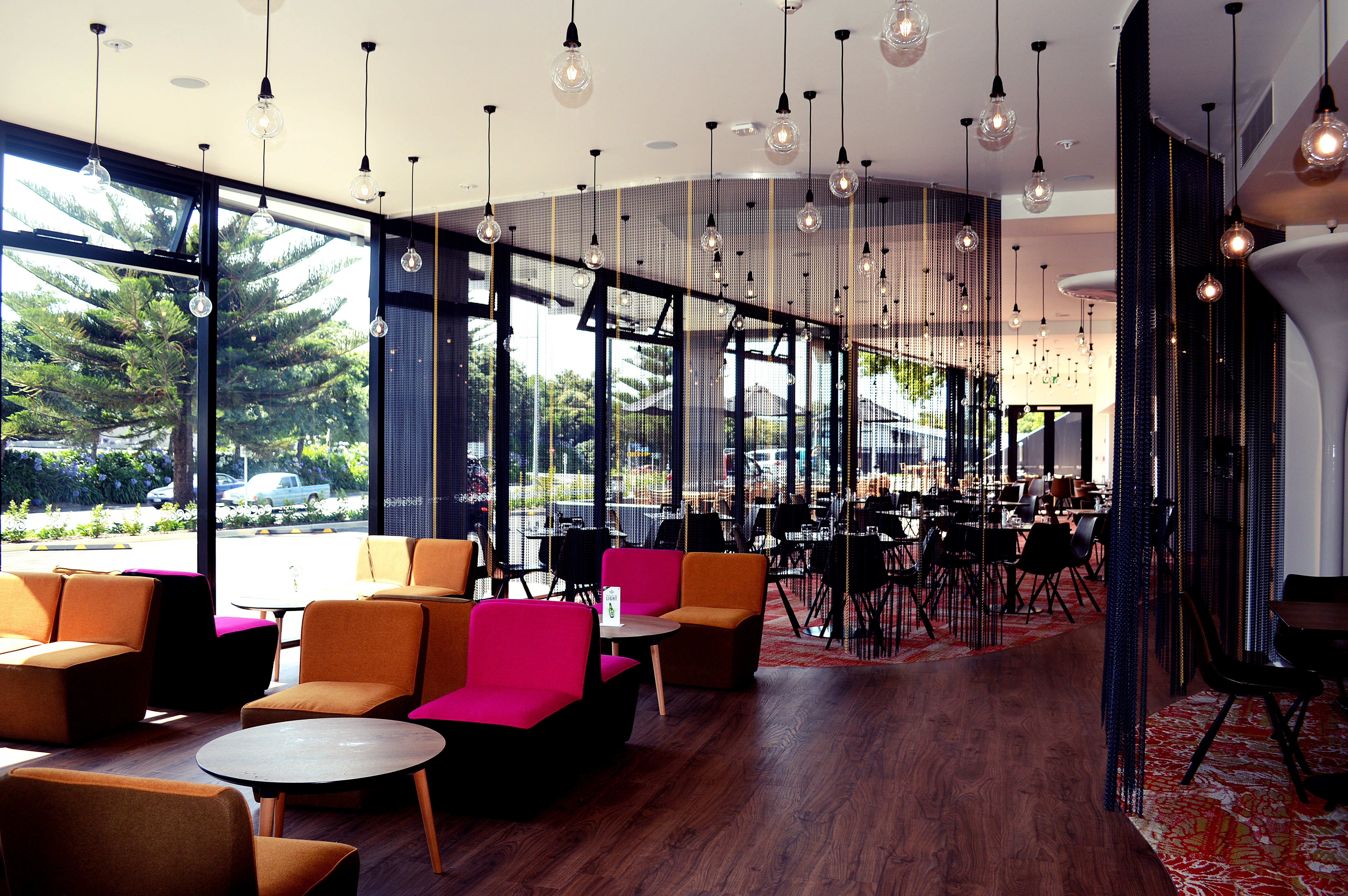 | | |
| --- | --- |
| Categories: | |
| Completed: | 2015 |
| Architect: | Boon Goldsmith Bhaskar Brebner Team Architects |
NOVOTEL HOBSON HOTEL
The Novotel hotel and Governors Cafe are a welcome addition to the New Plymouth Business District and Business travellers alike.
The contemporary style of the hotel provides a design which is timeless, clean-lined and simple with not too many material palettes around the building.
The entire front face of the building is made up of a glass façade, which is a prominent feature and will either reflect or be transparent depending on the time of day and angle of sunshine. This sleek glass façade needed to be matched with an equally sleek window opening unit, to minimise its visibility when the glass becomes transparent.  The hotel and café's attractive interior utilises bold bright colours, combined with mesmerising pendant lighting aligned in rows.
A church and two houses were removed from the site but an exotic, 150-year-old ombú tree remains, protected by resource management and contractual agreement. The tree grew in a plant nursery in the 1860s, originally hailing South America and is thought to be one of two in New Zealand. 
The combination of nature and construction demonstrates the adaptation of the building to its surroundings and emphasis on preservation of a historical icon in the area.  (Photos courtesy Simon Devitt).
PROJECT DESCRIPTION
Install gearing which lives up to the brand standards for Novotel

Provide a streamlined solution for opening windows in a café that has an entire glass façade.

Align with the alluring and abstract design of the café, so as not to draw attention away from the chainmail separators and mesmerising effect of the pendant lighting.

Operate numerous high and low-level sashes, which do not intrude on the internal space.

Coordinating with work performed by other trades to ensure timely installation and conformity with plans and specifications.

Provide the highest quality service to reinforce our client relationships and brand reputation.